We live right next to a beautiful park called Parc de la Grange. It's a large grassy park with a beautiful view out onto the lake, and I absolutely love it, especially now that the weather is getting summery. It has playgrounds, a wading pool, a rose garden, and even some old Roman ruins (not much to look at, just the foundation from a house, but still interesting).
There's also an old mansion, that belonged to a series of very wealthy families. The last of the first family to own it, Jean Lullin, was bankrupted when all the money he'd loaned King Louis XVI of France was obviously never going to be paid back when the King lost his head in the French revolution. Francois Favre bought it from him, and his son established an extensive library there, acquiring about 15,000 books (which, back in the 1700's and 1800's, was a big deal and very expensive). His grandson William Favre donated the house and grounds to the city of Geneva in 1918, under a few conditions (one of them was that his room in the house be preserved exactly the way it was when he died).
The mansion is almost always closed to the public, except on 2 very limited tours (20 people each) in spring. I saw them mentioned in the city of Geneva newsletter, but missed the signup time. Eric was the one who ended up successfully signing up, but when the time came he decided not to go, so I went in his place. It's a good thing, too, because the tour was completely in French, and involved about 2 hours of standing around listening to a historian discourse on the history of the house, and the details of the furnishings. It was interesting, kind of, but by the end my back was absolutely killing me. Lots of the rooms had chairs, but they were antique, and we were told only to sit in there if absolutely necessary, so one woman on crutches did and the rest of us stood. Towards the end the guide gave us free range in the upstairs, which was more interesting than standing in one place. We also saw the room of William Favre, who donated the home and the grounds.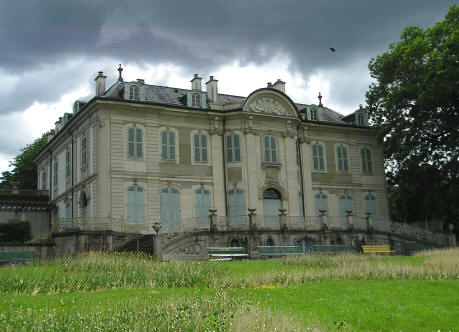 The front of the mansion. It's normally all closed up like this, but the day of the tour all the windows were opened
The tour group waiting to enter
A bathroom from the 1840's