We went to Rome over the kids winter holidays. We were teetering on the edge of not going, since Eric was quite sick over the weekend, in bed for 2 days solid with some kind of virus. I got it too, though not as bad, and then Peter got some kind of stomach upset with vomiting and diarrhea. We probably would have stayed at home, but the drainage in our bathroom was being fixed (a major project involving the ripping out of part of the floor), and we wouldn't have had a shower for days, so that tipped the scales in favor of going.
I was VERY nervous on the trip, just in case he vomited or had diarrhea. He actually did vomit, but in the airport and it was easily cleaned up. Poor guy. He got better as we stayed in Rome (we were there 4 nights) but still wanted to be carried most of the time. Sometimes it felt like my arms were about to fall off!
One unusual thing in Rome was that there were no passport checks when coming into the country. Nothing whatsoever, we could have been there completely illegally. We paid 40 euros for a taxi into the center, which is apparently a fixed price, and were at our hotel (Residenzia Frattina) within half an hour. The hotel is quite small and very centrally located. The kids were very excited by the idea of having a breakfast buffet, because they remembered the one at the Novotel in Paris, but this buffet was much smaller.
Italians are famously kid-friendly, and we experienced that as well. They smile more at kids, and ask them questions. At one point I was walking with Peter down a narrow street that cars were zipping through on, holding hands with him, with him on the traffic side. A car stopped, with an older couple, and the driver leaned over and said something like, "bambino sempre parte del muro". I pretty much understood it (children should be on the side of the wall), because I understand Spanish, and it's fairly similar. And the guy was right - I should have been holding Peter's other hand, and walked next to the cars myself.
The Italian food we had was definitely not outstanding. My expectations were a little too high, I think, because I'd just listened to a coworker of mine rave about how fantastic the food in Italy was. But I should have remembered that this particular coworker raves about everything. We tried a few restaurants, but got nothing that stood out as exceptional. One that we went to was called the Life restaurant. The owner or manager was standing outside, coaxing us to come in with excellent English. It all sounded great on the menu, but the actual food was really bland. Plus, there was a "service charge" for the table, which is apparently somewhat of a rip-off. And the bottle of water that we bought was definitely just tap water that we paid 3 Euros for. I later looked up the place on TripAdvisor, and found lots of positive reviews that were almost certainly posted by the owners. Too many mentions of their "stupendous lobster tasting menu". Note to self - the negative reviews are usually more accurate. Also, in very touristy areas, people that accost you and speak English really well are usually scammers.
On the plus side - we REALLY enjoyed the ice creams. We got them every day, because it was pretty warm in the sun (and thank goodness it was sunny every day except our last!). They were too big for Peter, so once he'd enjoyed it a while, and it was getting messy, I would say, "Okay, 5 more licks, and then make it disappear when he'd finished his 5 licks.
On Friday we got a relatively early start and walked to the Coliseum. I should have had us skip it, because I figured as famous as it was, there would be massive crowds even though this is the off season. And yes, there were massive crowds. But it was much worse because of the fact that more than half of the area that's normally open was closed off - supposedly because of aftereffects of the snowfall from a few days ago. Unless there was structural damage, I don't understand why it was closed. In hindsight, if I were to do it again, I'd completely skip the Coliseum - or maybe just do a quick run through - definitely NOT do the guided tour, which was massive and overcrowded.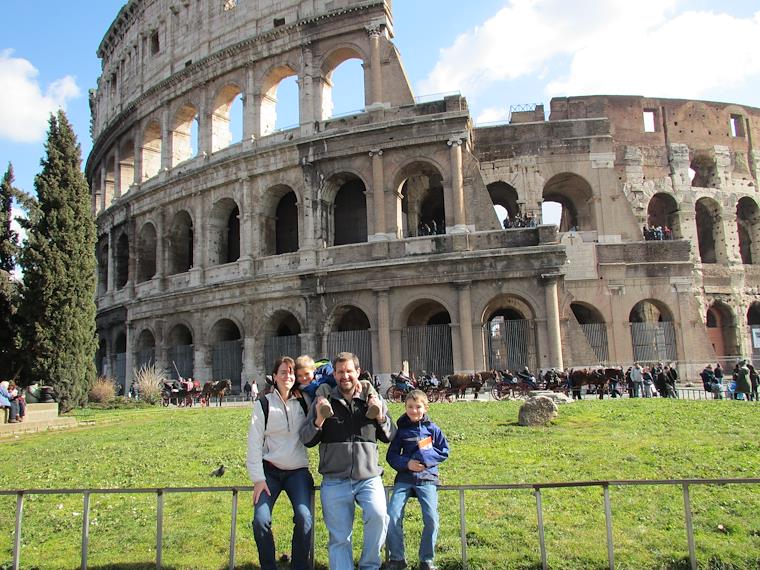 Instead, I'd spend my time at the Roman Forum, which was much more interesting, less crowded, and had more places to explore. There were vendors - I believe they were Bengali - all over the place, with a serious lack of imagination in terms of what they sold. There were souvenir scarves, sunglasses, and little crystal squares with laser-etched souvenir scenes inside, and camera tripods. And that's it, thought there were dozens of vendors. I imagine they're provided with a bunch of goods that can be sold at a really high margin. They avoided the police, and had all their things set up in such a way that they could run away at a moments notice, which they did, frequently, when the police gave halfhearted chase to them.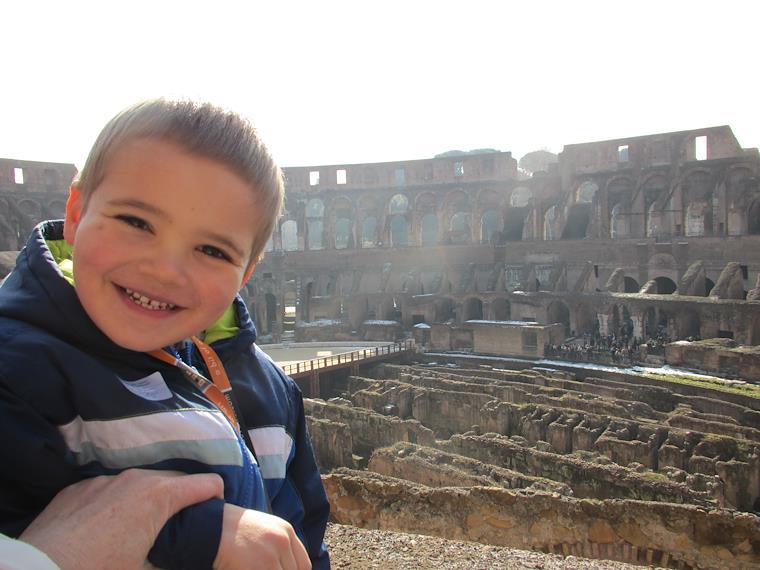 Peter at the Coliseum
It was a tiring day for the kids - poor Peter, in particular, was asking for hours when were were going to get ice cream and go home. I carried him quite a bit. We finally decided to go back home, and stopped for ice creams. At the first place we looked, a simple cone was 12 euro each! The normal prices is 2 euro. Definitely pays to look around.
At home the kids relaxed and watched some Italian comics on TV. It's amazing how absorbed they can be in TV, considering they don't speak Italian. Then, after some stomach upset issues and related clean-up with Peter, we went out to dinner at a restaurant near-by (better, but still wouldn't go back) and then hung out at the Spanish Steps a bit. In the evening, the vendors were trying to sell laser penlights, and light-stick rubber band powered helicopters. At the top of the Spanish Steps was a church that was having a service in French. There were four female figures all covered in a white cloak in hood - perhaps it was noviates taking the vows to become nuns?
We did most of the famous touristy things. We went to the Spanish Steps multiple times (it was within a few minutes walk from our hotel), because Kenny wanted to see the action. He bargained with a vendor there for one of the squishy balls they were selling (got him to 1 Euro from 2 Euros.
Also we went to the Piazza Navona. Kenny actually got separated from us there. He was with Eric, and wanted to run to where Peter and I were sitting, but somehow thought that we were on the other side of the square. Ironically I had walked around the square with Kenny a few minutes earlier, and we had settled that if he got lost, he would go to the central fountain, which has a big column and is very visible. But he got a little teary-eyed, and concerned bystanders had him stay with them instead of letting him go to the fountain.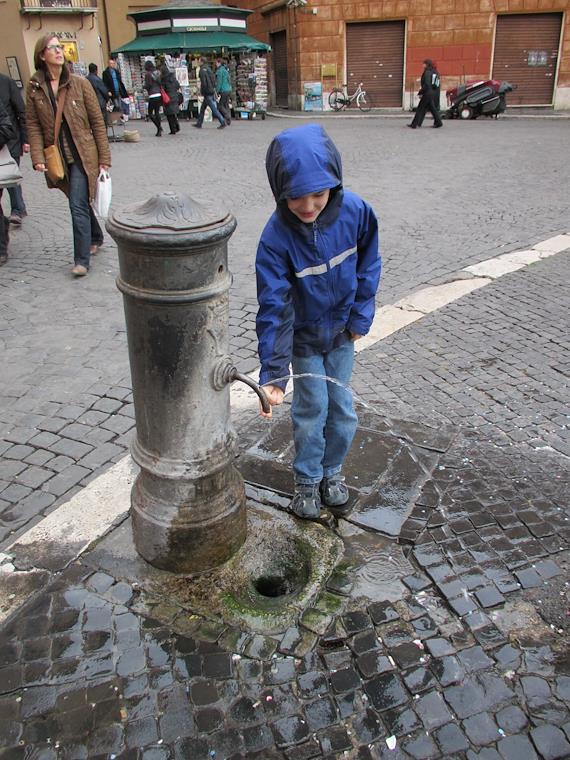 This old fountain can be used as a drinking fountain too
On our last day there, Sunday, we went to St Peter's Square. We should have timed things differently, because there was a mass being held (which was broadcast outside in the square), so the church was actually closed until 1:00 in the afternoon. So, we just wandered round the square and absorbed the atmosphere. There were more nuns and priests than I've seen in my life. Plenty of younger priests, too, they weren't all old. I thought there were very few men becoming priests now? Also, for some reason there were lots of American priests, judging by accents.